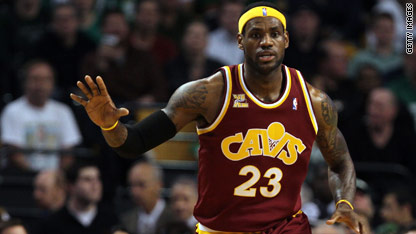 On the first full day of the rest of his basketball life, LeBron James, the NBA's most-sought after free agent has two meetings scheduled, one with the New York Knicks, owned by Cablevision, one of the country's biggest cable TV companies, and one with the New Jersey Nets, owned by Russia's richest man, Mikhail Prokhorov.
He's scheduled to have more meetings in the coming days with teams with really rich owners.
Ironically enough though, the one thing these millionaires and billionaires can't use to lure James is money.
The reason is the NBA like most major sports leagues in the US has a salary cap, and each year the league sets the amount of money that teams can spend on players for the upcoming season. This year that cap number comes out on July 8, which is why none of these free agents can officially sign a contract until then.
Of course, James and most of the others will get the maximum teams are allowed to pay, but there is another wrinkle as well. The rules are set up so that the player's current team can spend more to keep their own player than he can make by signing with a new team.
As Ian Thomsen laid out in Sports Illustrated the most James can make if he signs with another team is about $96 million over five years, but if he re-ups with his hometown Cavaliers he could get $125.5 million over six years. The other "max" free agents are in the same situation, they make about $30 million more if they stay with their current teams. (For insider news on LeBron's meetings you can follow a twitter feed from  Cleveland Plain Dealer writer Brian Windhorst @PDcavsinsider)
So the owners have to do more than write a big check. They are trying to lure James and the other superstars by presenting plans on how they can build a championship team around them and on benefits they can reap off the court. And if it takes doing some publicity stunts, so be it.
In fact today, right across the street from Madison Square Garden, the home of the Knicks, stands a brand new billboard with a picture of Prokhorov, the Nets owner, and music superstar Jay-Z, a part owner of the Nets and a friend of LeBron's. It's titled "The Blueprint for Greatness."
As the chase for the biggest stars begins, in more ways than one, money is no object.
Follow the LeBron James Watch at SI.com.