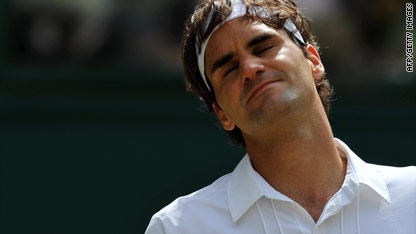 [Updated at 4:04 p.m.] Roger Federer dropped to No. 3 in the world tennis rankings after his quarterfinal loss at Wimbledon - his lowest ranking in seven years.
Since 2003, Federer had been in either the first or second spot in the ATP rankings.
The second place ranking now belongs to Novak Djokovic. Federer lost his quarterfinal match at Wimbledon to Tomas Berdych, who lost to Rafael Nadal in the final.

Federer, who went into the season as the top-ranked player, struggled in the past few tournaments: first losing to Robin Soderling during the French Open quarterfinals, and then his loss to Berdych in four sets. Berdych's success in making it to the finals earned him a five-spot leap in the standings, making him the eight-ranked player in the world.
The former Swiss champ said after his loss that he had been hampered by injuries.
"I am struggling with a little bit of a back and a leg issue. That just doesn't quite allow me to play the way I would like to play. So it's frustrating, to say the least," the 28-year-old star told reporters, as quoted by AFP.