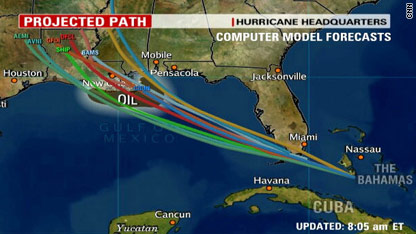 Bonnie - Tropical Storm Bonnie is dumping heavy rain on South Florida, but the greater concern is how it might affect efforts to clean up the Gulf Coast oil slick. Thad Allen says it could interrupt work on relief wells and cleanup for as long as two weeks; he'll give a live update at 10:30 a.m. ET. CNN's Josh Rubin takes a poignant look at the treasures that Gulf Coast residents have had to sacrifice to stay afloat through the drawn-out crisis.
USDA - Shirley Sherrod got her conversation with President Obama, but Cheryl Cook, the Agriculture Department official who repeatedly called Sherrod to press her to resign, is maintaining a low profile. The dust-up over the Sherrod affair has frustrated White House hopes to highlight recent successes.
Ford - Things are looking up at Ford Motor Co., which reported its best quarterly results in six years, a $2.7 billion profit. In the same period a year earlier, it suffered a $638 million loss.
Comic-Con - Fantasy fanatics are swarming San Diego, California, and CNN is right there with them. Embedded iReporters are delivering the inside dope from every corner of the convention, while genre superstars J.J. Abrams and Joss Whedon give insights on imagining parallel universes. Meanwhile, fans debate what belongs in the Comic-Con club and what doesn't.
Bling - An epic love story continues its 70-year run as Sotheby's announces it will auction several pieces of extremely valuable jewelry once owned by England's Duke and Duchess of Windso, the former King Edward VIII and Wallis Simpson. (In case you don't remember, Edward abdicated the British throne in 1936 to marry the American divorcee.)