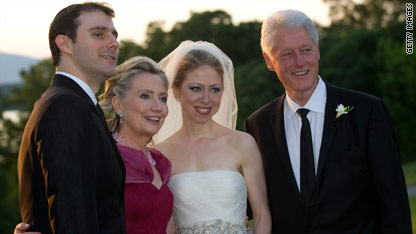 Here's a quick glance at the collective consciousness of the Web on Monday:
Putting a ring on it: It was quite the celebrity wedding weekend, with former first daughter Chelsea Clinton marrying longtime beau Marc Mezvinsky in a lavish ceremony in Rhinebeck, New York. (After midnight, late-night munchies stole the show.) Recording artist Alicia Keys married hip-hop producer Swizz Beatz at a private residence overlooking the Mediterranean Sea. Atlanta rapper T.I. married longtime fiancée Tiny Cottle in a glitzy soiree in Miami Beach, Florida.
Gulf oil disaster: The spill continued to make news Monday, with the dispersants used by BP coming under increased scrutiny. The Environmental Protection Agency said tests prove that the oil, not the dispersants, remain "the No. 1 enemy." The oil disaster seems to have leaked into the real estate market as well. For many residents, discovery of oil on their land used to mean guaranteed big bucks (Black gold? Texas tea?). But because of the spill, waterfront residents say home sales may be especially cruddy. In fact, the BP oil spill could cost homeowners $68 million in lost property value over the next year, according to a report released Monday.
#jailbreak: The iPhone 4 "jailbreak," finally legal, is getting a lot of clicks. The hack - available at jailbreakme.com - installs a program that lets iPhone 4 owners and others purchase apps from stores other than Apple's. But be careful! It's still a risky proposition.
Lindsay's out: Speaking of jail, Lindsay Lohan has been released from prison after 13 days in the pokey. It's on to rehab for the actress and singer.