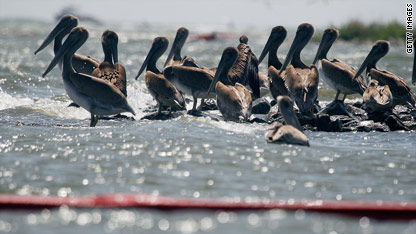 End of the oil? We might be at the end of a chapter in the long saga of the BP oil spill, which began April 20. Officials say that on Monday night they'll begin the first of two efforts to seal the ruptured well in the Gulf of Mexico. The "static kill" will happen first, followed five to seven days later by a "bottom kill."  BP's CEO Doug Suttles says he's "confident" these techniques will do the trick, but federal officials caution that nothing is guaranteed.
"We should not be writing any obituary for this event," said Thad Allen, the retired Coast Guard admiral who heads the government's response to the spill.
U.S. Iraq drawdown - According to a prepared speech President Obama is expected to give in Georgia, U.S. troops in Iraq will be reduced by 50,000 by the end of August. The U.S. military mission in Iraq will switch from combat to a support role in Iraq, including training of Iraqi national security forces, the speech says. Want to see a breakdown of U.S. resources in Iraq?  Read CNN's Security Brief.
The U.S. and Iraq disagree on the level of violence in the war-torn country. While the U.S. military reports that bloodshed has decreased, data Iraq released Saturday indicates that July was the deadliest month for civilians since May 2008. Specifically, Iraq says 396 civilians, 50 Iraqi soldiers and 89 police officers were killed last month.
In July, there were 81,000 U.S. troops in Iraq and 87,000 in Afghanistan.
Pakistan disaster - Flooding in Pakistan has killed more than 1,100 people, government officials tell CNN. At least 30,000 people were stuck on rooftops and other higher areas as they tried to escape rushing floodwaters. "We've got the government sending boats and helicopters to try to reach people and bring them to safety at the same time as trying to deliver emergency relief," said Nicki Bennett, a senior humanitarian affairs officer for the U.N.
C'mon, get happy! - After all that seriousness for your Monday morning, how about some good news? Yes, we said good news - or at least several websites that will make you feel better this week. Try a site that compiles happy news, or todaysbigthing.com, which today features a kid who wasn't thrilled with his trip to the zoo.