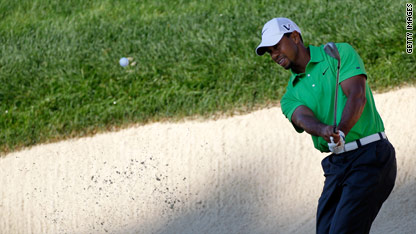 Tiger Woods shot a 7 over par 77 on Sunday in the final round of the World Golf Championships - Bridgestone Invitational to complete his worst tournament as a professional at 18 over par.
"I don't see how it can be fun shooting 18 over especially since my handicap is supposed to be zero," Woods said after the round in which he carded six bogeys and two double bogeys. It was his worst round of the four day tournament and tied his worst final round as a pro.
"It's nice that the tournament's over and we can focus on next week," the world's No. 1 golfer - at least for the moment - said. Phil Mickelson can take over the No. 1 spot in the world golf rankings if he finishes fourth or better on Sunday afternoon at Firestone Country Club in Akron, Ohio.
Woods and the rest of the tour head next week to Kohler, Wisconsin, and the PGA Championship, the last of the four major tournaments for 2010.