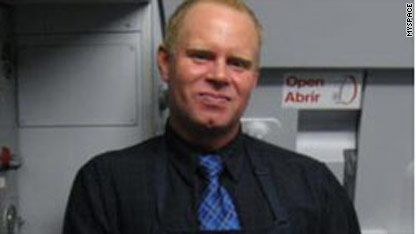 Fed-up flight attendant - Steven Slater went from JetBlue flight attendant to folk hero in 24 hours. Allegedly conked on the head by a rude passenger's luggage, Slater used some choice words to describe said passenger, then grabbed a couple of beers from the galley of the plane at JFK Airport, released an inflatable chute and zipped down to the tarmac. He then booked it to his car and drove home. Cops soon arrived and charged him with several crimes. Cue lawyer who has a news conference, cue support network Facebook page, cue columns musing about workplaces equipped with inflatable chutes and the stupid way people act on planes. America loves a bold exit, and reports say Slater looked elated as he ran away. So what has been your take-this-job-and-shove it moment? Have you had a bad day at work and fantasized about exiting stage left in a big way? Tell CNN's iReport about it.
Burning out - Speaking of leaving one's employment, seems we're all burnt out. Here's proof - a chart.
Should we turn now to Mark Hurd? Seems a likely transition. There's still much Web surfing for stories on the HP CEO who left his job following sexual harassment allegations. Fortune has a piece about Hurd hiring the company's general counsel whose strict ethics code might have hurt Hurd. (And the magazine mentioned "The Crying Game" in the first paragraph!) There has to be some good news lurking somewhere. Ah, yes, Dell is happy. Want proof? Look at this chart.
Employee of the year - You know who exemplifies the model employee? The McDonald's drive-thru person who took a beating from a customer and kept that line of cars moving. Check out this Chicken McNugget rampage. Notice that even after a bottle is hurled through the window, the employee calmly serves the next customer. Think about that the next time your order gets screwed up. We know you didn't want pickles, but you got them, so peacefully accept it.