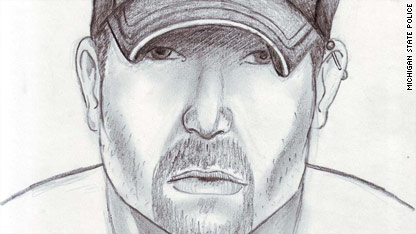 Arrest in stabbings case made: A man was taken into custody Wednesday night at Hartsfield-Jackson Atlanta International Airport in connection with the stabbings of 20 people, police said Thursday. Five of the victims died. The attacks began in May and occurred in Michigan, Virginia and Ohio. Police were conducting a multistate search for a suspect and had recently released a composite sketch.
Former 'Idol' behavior: Singer Fantasia Barrino is out of the hospital and resting Thursday after overdosing on "aspirin and a sleep aid", her manager Brian Dickens said. The incident happened when Barrino become overwhelmed while reading a court complaint from a woman who alleged that the singer carried on a year-long affair with her husband.  Release of the 911 call has prompted broad speculation on the internet that Barrino's pill-popping was a suicide attempt. North Carolina is one of only a few states that allow a spouse to sue a third party who interferes with a marriage for alienation of affection.
End it like Beckham? David Beckham's glittering international career has been brought to an end after England coach Fabio Capello announced his fate in a pre-match television interview. Capello said the 35-year-old Beckham was now "a little bit old" - ending the former Manchester United and Real Madrid star's hopes of adding to his 115 caps. Who knows? Maybe this will allow Beckham to delve deeper into acting.
Crush for subsidized housing: Officials in East Point, Georgia, got a snapshot of the housing woes Americans face when 30,000 people showed up Wednesday to apply for Section 8 housing.  The city took measures Thursday to avoid the disorder that erupted when thousands of people - many of them camped out for days - clamored for housing vouchers in the summer heat.  The crush is widely seen as a side effect of the diminished U.S. job market.