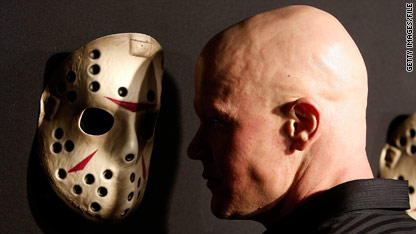 As luck would have it, Friday happened to fall on, well, you know by now.
Much has been made about the superstitions of this fateful day. Having a bad time at the office? Blame it on Friday the 13th. Starbucks barista screwed up your white chocolate mocha? Blame it on Friday the 13th.
If you're dreadfully afraid of all things Friday the 13th, there's even a word for it: friggatriskaidekaphobia.
While there's much speculation on when the phobia started, there's no debate on what etched it into the minds of contemporary Americans (read: moviegoers) today.  There was this little movie back in 1980 called "Friday the 13th." Something about this antagonist hockey player having an affection for swinging gardening tools. At night.
To be sure, some awful things have happened on this day in history. In 2009, there were three Friday the 13ths, explaining a number of weird events. In 2010, we won't be so lucky (or unlucky). There's only one.
If you're about to board a flight, there's a good chance there'll be no 13th row. Ditto for hotel room floors.
If your favorite sports player wears No. 13? Better look out.
You also might want to say away from 13-letter words.
And if you're on Twitter on this day, it just might be "over capacity."
But of course, it can't be all bad. It's also payday for many people. As luck would have it.