The U.S. Bureau of Land Management will review Saturday's off-road race crash that killed eight spectators in Southern California's Mojave Desert, a spokeswoman with the bureau's California office said.
The bureau had issued a permit to the group running the California 200, in which a truck crashed into spectators along the course in the Lucerne Valley area of San Bernardino County. In addition to those killed, four people were taken to hospitals in serious condition, and five others suffered minor to moderate injuries.
Police have said no safety barriers were in the area where the crash occurred during the race, which was part of an amateur series sanctioned by Mojave Desert Racing.
In the crash area, the course had "no delineations to where the track begins and where the track ends," said Joaquin Zubieta, a California Highway Patrol spokesman.
On MDR's website, the group asks spectators to stay 100 feet from the course. Video from the night of the crash show trucks speeding within feet of spectators.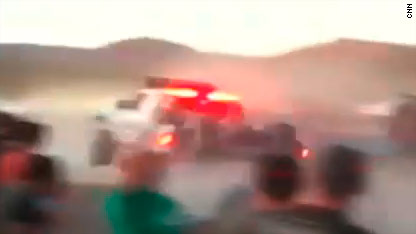 A copy of Mojave Desert Racing's permit, e-mailed to CNN by the BLM, says the permittee "is responsible for the safety of participants and spectators at the event with respect to the race/event course," and for "confining participating vehicles to the marked event course."
Read the "special stipulations" portion of the permit
The permit also stipulates that "all persons involved in … this event are to travel 15 mph, or less, when passing within 50 feet of any social group."
The driver of the truck that crashed told investigators Sunday that he reached speeds of 45 to 50 mph as he approached the jump where he lost control and crashed, according to California Highway Patrol spokesman Mario Lopez.
MDR did not immediately respond to a request for comment Monday afternoon about the crash and its rules for spectators.
The BLM's review "will cover all aspects of the event, and the program itself, as it relates to the permit," said Jan Bedrosian, spokeswoman for BLM's California state office.
The bureau also is cooperating with local and state law enforcement agencies, Bedrosian said.
Lopez said the driver will not face criminal charges. He said that California vehicle codes did not apply to the race because a permit was issued to the event's organizers, and that any safety violations would be investigated by the BLM or other agencies that handle permitted events.
The driver told investigators "he apparently lost control of the truck as it went airborne and landed," Lopez said.
- CNN's Stan Wilson, Jason Hanna and the CNN Wire staff contributed to this report.