Our flight to Dera Ismail Khan took only about 45 minutes from Islamabad. The region, heavily affected by the Pakistan offensive against the Taliban last year, is now ravaged by the flood.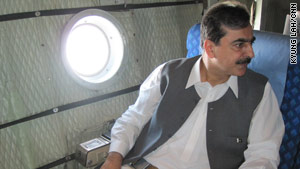 The Prime Minister of Pakistan, Yousaf Raza Gilani, was making a trip to the region, media in tow, to show that his party is in control of this massive disaster affecting millions.
As one of those members of the media, we had to adhere to the prime minister's schedule, which amounted to 15 minutes on the ground at the refugee
camp.
But even in that short time, the landscape told the story of the flood.
Stripped bare, the only color in the refugee camp was the darker shade of mud in the water pooling around the children. A boy hand pumped water from a tube well.
"Is that water clean?" I asked a member of the prime minister's office.
"Probably not," he said.
At least four children were dipping their hands in the water.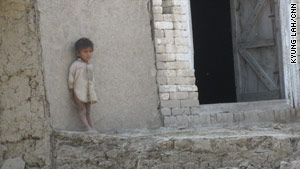 The UN estimates 3.5 million children are at risk of being affected by water-borne disease in Pakistan, part of the second wave of this disaster.
The children of Dera Ismail Khan are the ones at risk. Tents have just arrived in Dera Ismail Khan.
They're still fairly clean, only beginning to collect the dust of the refugee camp.
But the most critical need here is water. The only water I could see in my short stop was the water from the boy's hand pump - the water that's probably not
clean.