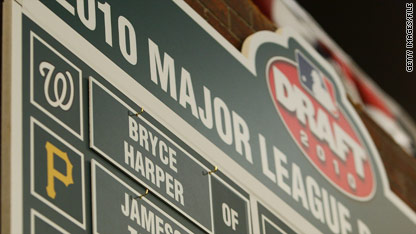 The No. 1 overall pick in the MLB Draft is signed, sealed and delivered – though the process wasn't without its drama.
Bryce Harper, the 17-year-old power-hitting phenom, reached a deal with the Washington Nationals just before Monday's midnight deadline.
While the negotiations went down to the wire, SI.com's Joe Lemire says not getting the deal done was just too much of a risk for both sides.
In the end, Harper received a $6.25 million bonus and $9.9 million in guaranteed money on a five-year deal, eclipsing the previous record for a position player (Mark Teixeira received $9.5 million in 2001).
There's plenty of on-the-field action filling the sports docket on Tuesday with baseball, soccer and tennis. Here are a couple highlights (all times Eastern).
Rangers at Rays (7:10 p.m., FSSW, Sun Sports). The potential playoff preview continues as the AL West-leading Rangers face the Rays, who moved into a first-place tie with the Yankees after rallying for a 6-4 win Monday.
Young Boys vs. Tottenham Hotspur (2:45 p.m., FoxSoccer.TV). Neither side has ever made it to the Champions League, but one will take a step forward as they open their two-leg playoff.

By The Numbers
1 – Number of times an Arkansas radio personality has to wear a Florida Gators hat in public before losing her job. Renee Gork announced on Twitter that she had been let go by KAKS two days after the Florida alum wore a Gators lid to a press conference with Razorbacks coach Bobby Petrino.
12 – Stitches Eli Manning needed after suffering a three-inch gash to the left side of his temple during the Giants' 31-16 preseason win over the Jets.
37 – The Blue Jays' Jose Bautista had never hit more than 16 home runs in a season, but he's left that career high in the dust, blasting his league-leading 37th home run Monday. He is also third in the majors with 89 RBIs.