Tanab, Pakistan - Reshma Jan remembers the flood as the waters that took away her mother.
It was nighttime, said the 10-year-old, and there was a lot of water and screaming. Reshma's father was trying to carry his ailing wife, as the waters swept away their home, built with mud and brick. It was the bricks, held together by mud, that collapsed on Reshma's mother.
"There was too much water," Reshma said. "We couldn't take her. She died."
There is no time for even a 10-year-old to grieve in the village of Tanab, in Khyber Paktunkhwa, even 20 days after the flood hit. It is survival of the living here, amid a landscape stripped bare. Dozens of houses are gone, piles of mud and debris left in their place as the waters receded. Wells filled with drinking water are now contaminated. Food is scarce: The only aid that has come is rice, which is what these villagers say they're grateful to be eating.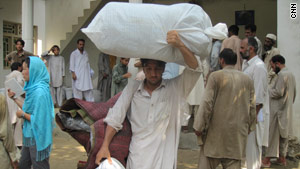 Wednesday, though, was a marked improvement for this village. Representatives of the United Nations High Commissioner for Refugees arrived and distributed non-food items like tents and blankets. But the aid is a trickle against a crisis that is only expanding.
"We think people aren't yet aware of how bad it is here," said Ariane Rummery. "People need to understand this isn't over yet. Much more aid needs to be sent in now. It's very frustrating because the needs are mounting every day. And we just don't have enough resources."
Addressing the possibility of international donor fatigue, Rummery said: "[The flood victims] are people like you and I. They're trying to feed their children. They're trying to find a dry place to sleep. We may be weary, but these people are more weary."