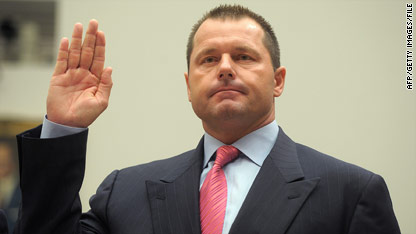 [Updated at 5:49 p.m.] Roger Clemens has released the following via Twitter:
"I never took HGH or Steroids. And I did not lie to Congress. I look forward to challenging the Governments accusations, and hope people will keep an open mind until trial. I appreciate all the support I have been getting. I am happy to finally have my day in court."
[Posted at 2:23 p.m.] Major league pitcher Roger Clemens was indicted for obstruction of Congress and other charges Thursday related to statements he made to a congressional committee in 2008.
The charges stem from a 2008 appearance by Clemens and his former trainer, Brian McNamee, before the House Committee on Oversight and Government Reform. In their sworn testimony, the two contradicted each other, with Clemens denying that he used performance-enhancing drugs.
McNamee's testimony, as well as a report by former Sen. George Mitchell, stated that Clemens had in fact used banned substances at points in his career.
Clemens has not pitched since 2007. He had a stellar career playing for the Boston Red Sox, Toronto Blue Jays, Houston Astros and New York Yankees. He was the first pitcher to win seven Cy Young awards. Clemens posted a record of 354-184 over 24 seasons.
SI.com: How Clemens will defend himself against perjury charge
SI.com video: Clemens indicted
SI. com photo gallery: Clemens through the years
SI.com photo gallery: Clemens on Capitol Hill
SI.com photo gallery: Sports figures who were prosecuted by the feds