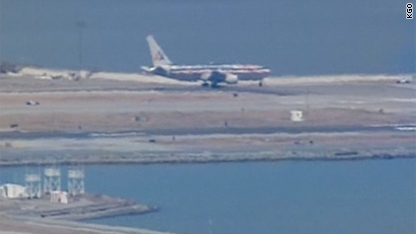 [Updated at 8:21 p.m. ET] A security threat to an American Airlines plane in San Francisco on Thursday has been deemed "non-credible" according to the San Francisco Police Department and other law enforcement agencies.
[Updated at 7:44 p.m. ET] No one was arrested or "placed in handcuffs" in connection with a phone call threatening a hijacking of an American Airlines flight in San Francisco, California, police said Thursday.
Earlier, a source familiar with the investigation said that two passengers were being questioned further by authorities.
[Updated at 7:07 p.m. ET] Two passengers were being questioned further by authorities in connection with a security threat against an American Airlines flight Thursday morning in San Francisco, California, according to a law enforcement source familiar with the investigation.
[Updated at 4:01 p.m. ET] Passengers appear to have started leaving the plane. A man identifying himself as a passenger told CNN's Rick Sanchez by phone that people on the plane have been calm, and that local police are taking them off six at a time. 
[Updated at 3:41 p.m. ET] American Airlines spokesman Tim Smith said the threat was called into San Francisco police and emphasized there was no hostage threat.
A security official told CNN that the threat claimed the flight would be hijacked, but nothing has been found to back that up yet.
[Posted at 3:14 p.m. ET] A threat made against an American Airlines plane preparing to take off from San Francisco International Airport on Thursday is prompting authorities to tell the passengers to deplane and be rescreened, the Transportation Security Administration said.
American Airlines Flight 24, which was scheduled to fly to New York's John F. Kennedy International Airport, was moved to a remote location at the San Francisco airport, at the TSA's request, the TSA said.
Passengers will be interviewed and rescreened while law enforcement inspects the aircraft, TSA said. It wasn't clear whether the passengers have yet left the plane.
The threat was made by phone, according to the TSA. No other information about the threat was immediately available.
For more on this story, check reports from CNN affiliates KRON and KTVU.
- CNN's Jeanne Meserve, Carol Cratty, Mike Ahlers and Tracy Sabo contributed to this report.