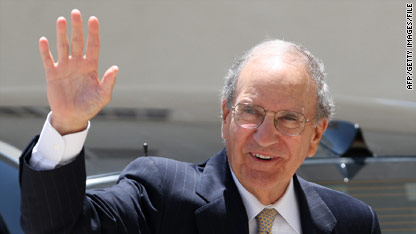 testing captions
GEORGE MITCHELL

The former Senate majority leader and current U.S. envoy to the Middle East may not only get Israel and the Palestinians talking, but he also led the special investigation over steroid use in Major League Baseball that contributed to the indictment of Roger Clemens.
According to an extensive profile from The Washington Post'Äôs Whorunsgov website, Mitchell stepped down as Senate majority leader in 1995 to secure universal health care. Previously he had turned down an offer for a Supreme Court nomination from President Clinton. He did, however, accept Clinton'Äôs offer to be a special envoy to Northern Ireland in 1996. He later described the process as 'Äú700 days of failure, and one day of success.'ÄĚ
Mitchell was then asked to lead the special investigation into performance-enhancing drugs in Major League Baseball. The 400-plus-page report cast light on the so-called epidemic among players and led to Senate hearings that included testimony by Clemens, who was indicted Thursday.
Whorunsgov.com: Why Mitchell matters
IMAM FEISAL ABDUL RAUF
The man who wants to build an Islamic center near ground zero arrived in Bahrain to serve as a U.S. goodwill ambassador to Muslim countries, The New York Times reports.
This is the second U.S. State Department trip for Imam Feisal. He will visit Bahrain, Qatar and the United Arab Emirates on a trip that will last until at least September 2. The State Department's sponsorship of the trip has been controversial.
A 20-year resident of the U.S., Feisal is  respected for his interfaith dialogue. NPR reported he believes  the community center will allow New Yorkers to bond over sports and hold lectures that might bridge gaps. The new location would also solve overcrowding at the current mosque, located 12 blocks from ground zero, NPR reports.
Feisal has been criticized since a 2001 'Äú60 Minutes'ÄĚ interview in which he said the 9/11 attacks were not deserved, but U.S. policies 'Äúwere an accessory to the crime." Asked to clarify, Feisal said, "Because we've been accessory to a lot of innocent lives dying in the world. In fact, in the most direct sense, Osama bin Laden is made in the U.S.A."
Iranian-American author Reza Aslan defended Feisal to NPR, saying his comments are the exact findings of the 9/11 report. Regardless, the tape has been aired and vilified by Bill O'Reilly, Rush Limbaugh and others.
JONATHAN LEE
The 13-year-old 'Äúyouth environmental ambassador'ÄĚ returned from North Korea on Thursday as part of an eight-day tour to promote peace. Lee, a Korean-American who lives in Ridgeland, Mississippi, went on the trip to present an idea to plant a 'ÄúPeace Garden'ÄĚ along the demilitarized zone (DMZ).
While a meeting with North Korean Leader Kim Jong-Il never materialized, Lee was able to present a letter to the representatives of 'ÄúThe Dear Leader.'ÄĚ He was told that as long as North Korea and South Korean were still "at war" the plan could not be pursued.
Lee is a CNN iReporter who has called on both sides of Korea, as well as the United States, to make children the priority in the 60-year-old conflict. He has founded a group called ICEY Hope'ÄĒthe International Cooperation of Environmental Youth. He has also created an environmental superhero called 'ÄúGo Green Man.'ÄĚ
Active since he was 10 years old, Lee has managed to meet with, correspond with or a least shake hands with various global leaders. This includes President Obama, Secretary of State Hillary Clinton, former President George W. Bush, South Korean President Lee Myung-bak and various members of the U.S. House and Senate. His Peace Forest motto would be:  "Above conflict, above borders, above ideology."
ICEY Hope: Learn about Jonathan's foundation
RUSTY HARDIN

The Houston-based attorney will defend perjury charges against Roger Clemens. When he was hired by Roger Clemens in 2007, The New York Times profiled Hardin saying he "outworks everybody."
As a prosecutor, Hardin prosecuted Karla Fay Tucker's death penalty case. As a defense attorney, he represented the now-defunct Arthur Andersen accounting firm during the Enron debacle, as well as Anna Nicole Smith's in-laws during the estate battle. In addition to Clemens, his clientele includes baseball star Wade Boggs and NFL quarterback Warren Moon.
In an oft-repeated 2002 Texas Monthly profile, writer Pamela Coloff said: 'ÄúHe is all things a great defender must be 'ÄĒ raconteur, showman, charmer, tactician, egotist 'ÄĒ and he has a ferocious charisma that a rival once described as 'Äėslicker 'Äôn deer guts on a doorknob.' 'ÄĚ