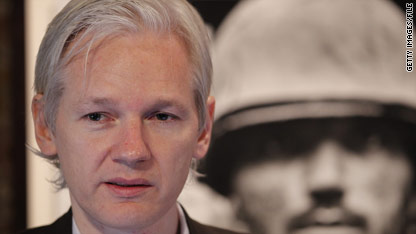 [Update 11:30 a.m.] Wikileaks Founder Julian Assange is "no longer wanted" and "is not suspected of rape," Chief Prosecutor Eva Finne said in a statement published by the Swedish prosecutor's website Saturday.
[Original post] Reports of criminal accusations against  WikiLeaks founder Julian Assange brought instant suspicion of a U.S. government-led smear campaign.
Assange, a citizen of Australia, has been accused in Sweden of rape and molestation, or harassment, the Swedish tabloid Expressen reported.
Read a rough Google translation of the Expressen report.
WikiLeaks recently published tens of thousands of U.S. documents related to the war in Afghanistan and has said it is preparing to publish another batch of 15,000 documents soon.
"We were warned to expect 'dirty tricks.' Now we have the first one," WikiLeaks' Twitter page said Saturday.
Blogger Alexander Higgins said the U.S. government "has truly grown into an Orwellian Big Brother regime."
According to the London-based tech blog Thinq, Assange "has become the focus of a smear campaign in what appears to be [an] effort to pile pressure on the whistle-blower ahead of the expected publication of thousands more classified US military documents. The documents are likely to lift the lid on more atrocities committed by forces in Afghanistan in the polluted name of freedom."
The publication OneIndia called the report "a suspicious development that seems to be a smear campaign against Assange."
Twitter user Deanzoz remarked, "Assange charged with rape. Pretty unusual approach from the CIA – they usually just shoot people in the head."
However, some think the accusations could be legitimate.
A commenter called Chips on the Somethingawful forum wrote: "If it's a smear, it's a superb smear given how simple and compelling it is and how creepy Julian Assange is."