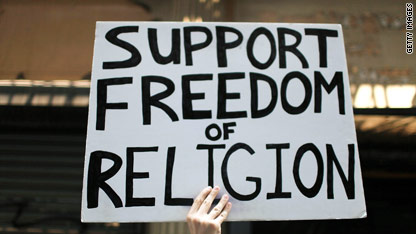 Support rally for center - Some family members of 9/11 victims will rally Wednesday in support of a controversial mosque and Islamic center that is scheduled to be built near New York's ground zero. September Eleventh Families for Peaceful Tomorrows will be joined by at least 40 religious and civic organizations and is expected to announce the creation of a coalition called New York Neighbors for American Values. The coalition's goals include support of "religious freedom and diversity" and the rejection of "crude stereotypes meant to frighten and divide us." The rally is scheduled to be outside a municipal building in Manhattan. Plans to build the community center and mosque near the site have stirred emotions and provoked debate nationwide.
Primaries - On the day after Tuesday's elections, Alaska's GOP Senate race is still up for grabs. Sen. Lisa Murkowski is trailing Joe Miller, largely a political unknown who has the Tea Party's support as well as the backing of  former Alaska Gov. Sarah Palin. Voters also were deciding on gubernatorial nominees in Alaska. Gov. Sean Parnell, who replaced Palin when she resigned last year, faced two challengers in the GOP primary. With 84 percent of precincts reporting, Parnell had 49 percent of the vote, according to an unofficial Associated Press vote count.
Michigan joins recall list - Eggs are being recalled from another state - Michigan. That raises the total number of states to 23 that received potentially contaminated eggs from Wright County Egg or Hillandale Farms, the distributors at the center of the recall of more than half a billion eggs. The Michigan Department of Agriculture said Tuesday that eggs associated with the recall have been distributed in the state. Also Wednesday, Thomas R. Frieden, director of the Centers for Disease Control and Prevention, is scheduled to address the Atlanta Press Club. Frieden likely will discuss the recall.