Claustrophobes, this one isn't for you.
Scientists call it being "saturated" or living on the Aquarius, a structure about the size of a school bus that sits at the bottom of the ocean floor, a little more than 5 file miles offshore of Key Largo, Florida.
Only the savviest and most experienced of diving scientists (some with as many as 800 dives under their belt) sign on and make it through five days of training required to take the extended-stay plunge, said spokesperson Thomas Potts, who just recently came up from air.
Owned by the NOAA and managed by the University of North Carolina at Wilmington, Aquarius has a sophisticated lab on board to study sponges, vital to understanding the underwater ecosystem. Take a peek inside.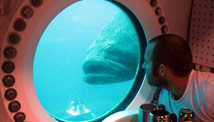 "When you're on a typical dive, you're safe spot is the surface so you have to get over that - you can't come up," Potts said. "You've also got to be pretty good friends with the people you're saturated with because it's close living quarters."
The living space is 43 feet by 9 feet.
"It's really not as bad as that sounds," Potts added.
A UNCW professor and several graduate students and technicians just finished a nine-day stay on Aquarius. The next mission for the lab is scheduled for September 14.
To learn more about Aquarius and the research divers are conducting, click here.