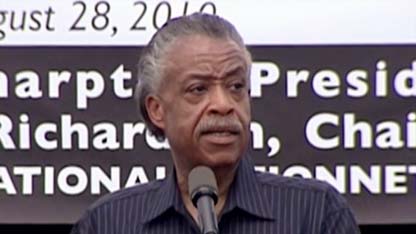 The Rev. Al Sharpton indicated at a Washington rally Saturday that conservative forces will face a fight in the upcoming elections.
"We're coming out to fight and we're not going to let you turn back the clock," he said.
Sharpton was the organizer of a rally to commemorate the 47th anniversary of the Rev. Martin Luther King Jr.'s "I Have a Dream" speech.
Across town at the Lincoln Memorial, where King delivered that seminal address, conservative talk show host Glenn Beck was hosting a rally called "Restoring Honor."
The speakers at Sharpton's "Reclaim the Dream" rally included Robert Franklin, president of Morehouse College, King's alma mater.
"I am delighted to know that Mr. Glenn Beck and his colleagues discovered the 'I Have a Dream' speech," Franklin said. But, he added, Beck needs to travel to Morehouse to learn what King studied, citing, for example, the works of religious thinkers who influenced the late civil rights leader.
A couple of speakers noted the passing of Dorothy Height earlier this year. Height, a civil rights pioneer, had been chair and president emeritus of the National Council of Negro Women and was on the podium with King during the 1963 speech.
NAACP President Benjamin Todd Jealous castigated the message of the Beck rally.
"For a year and a half, we've been subjected to small hearts and small minds on our small screens," he said, referring to conservative ideas on television.
"It's time to make sure our country - when they turn on the TV - sees itself reflected back."
Marc Morial, head of the National Urban League, said, "We will not stand silent as some seek to hijack, as some seek to distort and contort, as some seek to bamboozle and confuse the vision of Dr. King's dream."
Education Secretary Arne Duncan told the "Reclaim the Dream" rally that education is "the civil rights issue of our generation." He urged people to stop being complacent and "step up" to demand excellence in schools.