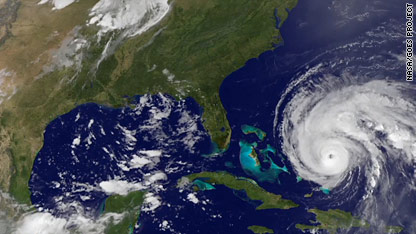 Don't focus on the skinny line. That's the advice often given by meteorologists as a tropical storm or hurricane approaches the coast line.
When looking at the forecast track of a particular tropical storm or hurricane you will notice a shaded area that falls to the left and right of the forecast track. This shaded area is called the "cone of uncertainty" and is the average error in the forecast tracks of tropical cyclones issued by the National Hurricane Center. As a hurricane approaches, the track could shift to the left or right within the shaded area. So it is important to monitor the forecasts of tropical cyclones until you fall outside of the cone.
Tropical cyclones (the all-encompassing term for tropical depressions, tropical storms and hurricanes) can have far-reaching effects far away from the forecast track. For example, Earl's tropical storm force winds extend outward from the center by up to 200 miles. The entire system is now the size of the state of California. If the storm is moving at an average speed of 20 miles per hour, you can do the math: tropical storm force winds could arrive in your location up to 10 hours in advance of the hurricane!
Forecasters are also saying that Earl could come within 50 to 80 miles of the coast as Earl makes its closest approach. Although it is not forecast to make landfall, hurricane-force winds will be possible along the Outer Banks and Cape Cod as Earl makes its closest approach to those locations, because hurricane force winds extend outward from the center up to 90 miles with Earl.
In addition, residents along a coastline could, in some cases, experience the full brunt of a hurricane without it ever making landfall. Landfall occurs officially when the center of the eye comes in contact with land. The strongest winds in a hurricane occur around the edge of the eye in intense thunderstorms. This area is called the "eye-wall" and could come ashore without the center of the hurricane ever coming in contact with land.
The danger from tropical storms and hurricanes doesn't end with the winds: Lines of heavy thunderstorms, often called "squalls" can extend
outward from the storm for several hundred miles. These storms are capable of producing very heavy rainfall in a very short amount of time,
flooding streets and highways. The spiral bands can also produce tornadoes and waterspouts with little or no advance warning.
So it is important to take into account the far-reaching effects of tropical storm and hurricanes. Just because a hurricane is forecast to remain offshore, it does not mean you are out of harms way, the effects of a category 4 hurricane like Earl are far-reaching. Don't focus on the skinny line!