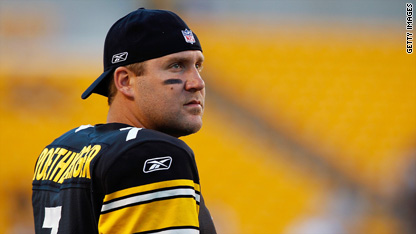 The National Football League has reduced the suspension of Pittsburgh Steelers quarterback Ben Roethlisberger from six to four games, the league said.
The NFL in a statement Friday said Roethlisberger's reinstatement is contingent on him "continuing to adhere to the program established by our advisors and avoiding any further violations of the Personal Conduct Policy."
"You have told me and the Steelers that you are committed to making better decisions," Commissioner Roger Goodell said in a letter to Roethlisberger, according to the statement. "Your actions over the past several months have been consistent with that promise and you must continue to honor that commitment."
Roethlisberger, who led the Steelers to Super Bowl titles in 2006 and 2009, faced the threat of criminal charges after a woman accused him of raping her in a Milledgeville, Georgia, bar in March.
The quarterback's lawyer said no sexual assault took place, and prosecutors decided last week that they could not prove that a crime had been committed.
This story is developing. We'll bring you the latest information as we get it.