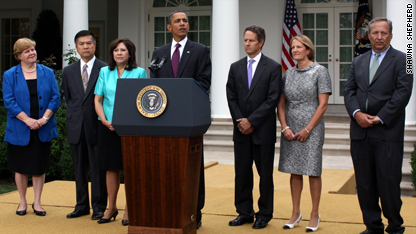 President Obama cited small businesses as "the primary drivers of job creation" and called on Congress, especially the GOP, to tackle a bill aimed at improving the climate for such enterprises.
In his Friday speech from the White House, which came on the heels of news that private sector jobs had been created for an eighth straight month, Obama said the legislation should be Congress' first order of business when it reconvenes this month. Legislators, he said, need to "put aside partisanship and be the leaders the American people need us to be."
He directly accused Republicans of blocking the $55 billion legislation package. Senate Democrats are hoping to OK the package and get it to the president's desk well before November's midterm elections.
Among the provisions in the bill are loan enhancements that would double what small business owners can borrow to expand their companies, as well as billions in tax-cut extensions.
"It is paid for," the president said. "It will not add one dime to our deficit."
Obama said it took years to create the country's economic problems, and it will take years to right them.
He said, however, that he wants "all Americans to remind themselves there are better days ahead" and that the United States remains the world leader in innovation, discovery and entrepreneurship.
"There's no quick fix for the worst recession since the Great Depression," he said.
There are signs the economy is improving, though. He said August saw 67,000 private sector jobs created, while official July numbers indicated 107,000 private sector jobs were created.
In contrast, the latest unemployment numbers show joblessness rose from 9.5 percent to 9.6 percent last month, and the economy lost 54,000 jobs overall. The job loss was attributed to the decline in temporary Census Bureau positions.
To "break the back of this recession," Obama said, more steps are needed, including the small business legislation, extending tax cuts for the middle class and directing investments to areas where job-creation potential is the highest.
The House's No. 2 Republican, responding to the unemployment numbers prior to Obama's speech, said the report shows "the American economy still has a long way to go."
Rep. Eric Cantor of Virginia had a starkly different outlook than Obama regarding the measures being taken to resurrect the economy.
"The policies being pursued by the White House and Democrat leaders in Washington continue to create uncertainty and fear that is inhibiting productivity, innovation and job creation," he said.
The president is scheduled to give two speeches next week in an attempt to frame his administration's response to the recession.