CNN's David Mattingly is at the Outer Banks in North Carolina as a weakened Hurricane Earl makes its way along the East Coast.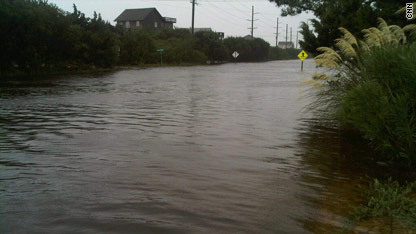 9:00 a.m.: North Carolina Highway 12, the only way in and out of much of the Outer Banks, is flooded for at least a couple of miles in the Avon, NC and Waves, NC areas. This is the result of a reverse storm surge.  Water from the west of the island was pulled  onshore by high winds as Hurricane Earl moved north.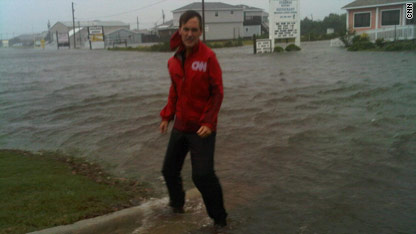 7:59 a.m.: This water wasn't here 45 minutes ago. The Outer Banks is getting hit with a reverse storm surge as water from the sound on the west side of the islands is being pulled on shore. Hwy 12 looks like a river and the water is still rising.
3:31 a.m.: I'm standing in the driving rain in middle of a flooded Hwy 12. We're cut off and unable to travel north from Waves, NC until the water recedes. Earl may not be making landfall but it is still strong enough to do some serious damage.
3:15 a.m.: Hit a roadblock North of Waves, NC. Water on road too deep. Have to turn back to higher ground.
2:43 a.m.: Surf coming over the dunes in Waves, NC on Outer Banks. Hwy 12 flooded.
2:37 a.m.: Just walked down to the beach on Avon, north of Hatteras. Surf pushing water all the way up to the dunes. Tropical storm force winds
1:45 a.m.: Earl making its presence known. Bands of stinging rain whipping through Outer Banks.
12:24 a.m.: A little after midnight and wind is ramping up quickly on Outer Banks. Problem right now isn't rain...it's sand! Driving on Hwy 22 at the moment and visibility is impaired by sand blowing off the beach.