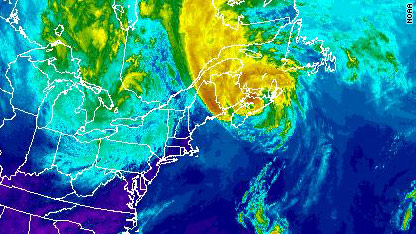 [Update 11:30 a.m. ET] Tropical Storm Earl made landfall in Nova Scotia on Saturday morning and severe tropical storm conditions are affecting a large part of the Canadian province, the National Hurricane Center said.
[Original post] Tropical Storm Earl is leaving its final marks on the U.S. East Coast as it continues barreling up the Atlantic Ocean toward Canada.
As of 5 a.m. Saturday, Earl was about 160 miles east of Nantucket, Massachusetts, and about 145 miles southwest of Halifax, Nova Scotia, according to the National Hurricane Center.
One official in Massachusetts said authorities are "fairly confident we'll be getting things back to normal soon."
"We had a very quiet night," said Scott MacLeod, spokesman for the Massachusetts Emergency Management Agency. "We had a few road closures and minor power outages. Earlier, we had 1,800 customers statewide who lost power. Now it's down to 700. We fully expect everyone's power to be restored soon."
Earl was headed northeast at about 30 mph, packing winds of 70 mph. Parts of Nantucket, Massachusetts, have already received 3 to 6 inches of rain.
Large swells from Earl will continue to affect the East Coast from New Jersey northward on Saturday, the weather agency said.