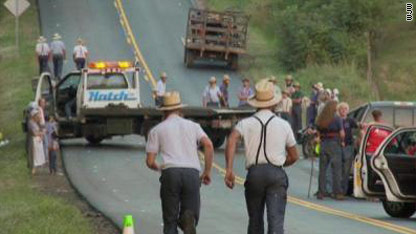 An Amish woman in Geauga County, Ohio, died Sunday, four days after she gave birth following a collision between her horse-drawn buggy and an SUV.
Barbara Kauffman, 31, was riding in rural Parkman Township, 50 miles east of Cleveland, with her husband and six children on September 1 when the buggy was struck from behind by an SUV, according to CNN affiliate WJW.
Kauffman was taken by helicopter to a hospital in Cleveland, where she delivered the baby that night. She remained in critical condition for several days before dying on Sunday, WJW reported. The baby is in fair condition.
Two of Kauffman's other children, an 8-year-old and a 9-year-old, are in fair condition, according to CNN affiliate WEWS.
The SUV driver, Julie M. Pirtz, 31, was cited for operating a vehicle under the influence, and may face additional charges related to Kauffman's death, prosecutors told WJW.