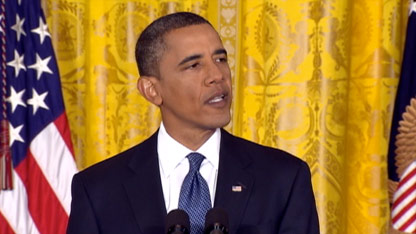 CNN Security Analyst David Gergen said he believed Obama's press conference was "mostly passionless and, frankly, boring" until the mosque question.
There, he took a much clearer stand on the mosque than he has in the past.
CNN political analyst Roland Martin, however, criticized the summation, saying he is not looking for anyone in Washington to "enamor me."
However, Martin said, he would have liked to have seen Obama be clearer about Republicans setting up roadblocks, saying no and blocking progress.
"You know what? He's not an entertainer," Martin said of Obama. "He's the quarterback. He has to set the tone," Martin said.
CNN's John King, host of "John King U.S.A." said he was impressed by his "long, substantive answers" on several of the issues and noted that on some questions he spoke for three, six and seven minutes to address some of these issues.
Candy Crowley, host of CNN's "State of the Union," said she got the sense that Obama did not want the issue of the mosque to be raised, but everyone on the CNN panel seemed to agree that Obama was most passionate in addressing that specific issue.
CNN political analyst Donna Brazile speculated that Obama became so passionate because Muslim Americans died in 9/11 and have also given their lives in the cause for freedom.
King said he was concerned with U.S. troops who are Muslim.
"Look, there are Muslim troops serving under me, your commander in chief," King said, summating Obama's thoughts.
Crowley said while Democrats do not want the expiration of the Bush tax cuts for the wealthy to be a major issue as November approaches, Obama reiterated his administration's stance that he wants them to expires for couples making more than $250,000, but not for the middle-class.
Borger, however, said she felt he seemed to leave room for compromise if he can get a jobs bill though Congress.
Addressing Martin's statement that he doesn't want politicians to entertain, Gergen said he doesn't, either. However, when Obama was on the campaign trail his tone, enthusiasm and message "stirred people's hopes."
But in Friday's address, Gergen said, Obama seemed more "professorial' and "there wasn't much electricity to it." At the beginning of the speech, he tried to rally Democrats with a "nakedly partisan" attack, Gergen said, but he has had trouble rallying his party of late.
"I think he hasn't found his voice again," Gergen said. "His voice isn't communicating in the same way."
Gergen thinks perhaps the newser lacked electricity because it carried on too long, more than an hour, noting it's tougher to "rifle-shot your message."
Obama seemingly was closer to using a shotgun, he said.
All of the CNN panelists seem to agree the Republicans are hammering Democrats on the economy.
Crowley said Obama seemed to say, "Well, OK, you can stick with us or you can go back to the people who caused this mess."
For Roland Martin, there is one key.
Obama "must stay on the offensive" about the GOP trying to block Democratic action on the economy.
Obama has to loudly voice this allegation and "give other Democrats the confidence to say it themselves, what they've done has made sense," Martin said.