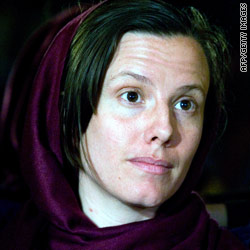 Sarah Shourd
The Iranian government has announced that on Saturday it will release Shourd, one of three American hikers who have been detained in the country for more than a year.
Shourd, along with Shane Bauer and Josh Fattal, were detained in July 2009 after the Iranian government said they strayed across an unmarked border into Iran while hiking in Iraq's Kurdistan region. The three were accused of being spies; they deny the charges.
During a visit to Iran earlier this year, Shourd's mother, Nora Shourd, said her daughter was very ill and suffering from depression.
Shourd and Bauer became engaged while imprisoned and plan to get married after their release.
Iran to release American hiker Sarah Shourd, official says
Hadidjatou Karamoko Traoré
The native of the Ivory Coast and mother of three lost her husband in the September 11 attacks on the World Trade Center in New York.
Traoré's husband, Abdoul-Karim Traoré, worked at Windows on the World, a restaurant on the top floors of the North Tower. After the attack, all that was found of him were his wallet, his identification cards and a few coins.
Traoré, a Muslim, takes her children to ground zero every September 11 to pray. She says praying there feels entirely natural, even if some of those standing nearby blame her religion for the attacks.
"When people run away from me, I feel sad," she told the New York Times. "But I understand why they're doing that. What happened was terrible."
New York Times: Visiting ground zero, asking Allah for comfort
Residents of San Bruno, California
At least six people were killed and more than 20 were injured Thursday after a gas main exploded and destroyed more than 50 houses in a San Francisco, California, suburb.
Brothers Bob and Ed Pellegrini said in the San Jose Mercury News that the ground shook violently and they thought there was an earthquake in the Bay Area. Then they saw the flames. "It looked like hell on earth. I have never seen a ball of fire that huge," Bob Pellegrini said.
Marilyn Siacotos, 76, escaped through her back door when she saw flames on her street. "I didn't look back," she said. "I just got out before anybody (emergency responders) came."
Retired San Bruno Fire Battalion Chief Bob Hensel, who also had to evacuate, said it was the biggest fire he had seen in decades. He said his wife's car bumpers melted from the heat.
"I heard a big whooshing sound and there was a boom. Stuff started hitting the house and then it got yellow outside and then real warm," Hensel said.
The California Public Utilities Commission is investigating the cause of the explosion and fire.
San Jose Mercury News: Fire destroys dozens of homes; six dead