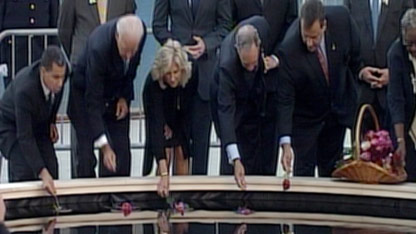 President Obama spoke at the Pentagon, Vice President Joe Biden appeared at New York's ground zero, and first lady Michelle Obama - accompanied by former first lady Laura Bush - addressed listeners in Shanksville, Pennsylvania, on Saturday in observance of the ninth anniversary of the terrorist attacks of September 11, 2001.
"The highest honor we can pay those we lost, indeed our greatest weapon in this ongoing war, is to do what our adversaries fear the most - to stay true to who we are as Americans, to renew our sense of common purpose, to say that we define the character of our country and we will not let the acts of some small band of murderers who slaughter the innocent and cower in caves distort who we are," the president said.
Biden, joined by his wife, Jill, New York City Mayor Michael Bloomberg, New York Gov. David Paterson and victims' family members, placed flowers in a pool at the former site of the World Trade Center.