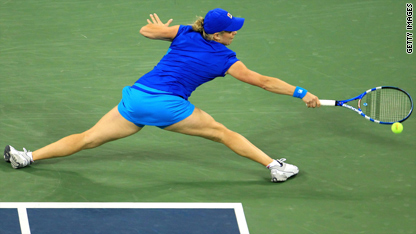 Belgium's Kim Clijsters defeated Russia's Vera Zvonareva 6-2, 6-1 Saturday night to win her second consecutive U.S. Open title and her third Grand Slam title.
The win makes her the first woman to win two consecutive U.S. Open titles since Venus Williams, whom Clijsters beat Friday night to advance to the final round.
The no. 2-seeded Clijsters accepted her trophy before a cheering crowd in New York's Arthur Ashe stadium after encouraging Zvonareva to keep fighting toward the title.
"A little bit of experience definitely helps," she said. "I think it took me six or seven finals until I finally got one.
"Keep it going," she told her opponent. "You're a great player. It'll happen."
The 27-year-old married mother will also receive $2.2 million for her win.
Zvonareva congratulated Clijsters, saying that despite the outcome, "I still love New York."
Clijsters came into the match with 20 consecutive wins after defeating Williams, who snagged back-to-back titles in 2000 and 2001. The no. 7-seeded Zvonareva upset top-seeded Caroline Wozniacki on Friday to face off with Clijsters, whom she had beaten twice previously.
More coverage of the U.S. Open on SI.com.