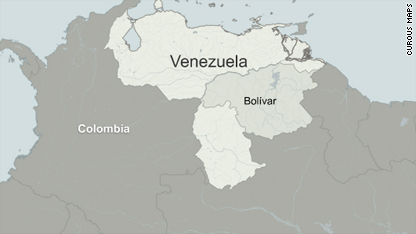 [Updated at 2:38 p.m.] Governor of Bolivar state said on VTV that 14 people are confirmed dead in the plane crash.
[Updated at 12:58 p.m.] Of those 23 people taken to the hospital, two died, said Yanitza Rodriguez, director of the Hospital Uyapar. The other 21 people were being treated, she said.
Aerial photographs show it crashed in an industrial junkyard.
A man who identified himself as Ivan Maradey told CNN he witnessed the crash and saw the plane tumble into some power lines before hitting the ground and exploding. There were conflicting reports over how many people were aboard.
Are you there? Send your photos, video, stories to CNN iReport.
Read continuing coverage of the plane crash in Venezuela here.
[Updated at 12:10 p.m.] Twenty-three people were taken to local hospitals in the city of Guayana, said Bolivar state Gov. Francisco Rangel Gomez.
The plane crashed about 6 miles (10 km) from the airport in Guayana, said Rangel Gomez.
[Updated at 11:37 a.m.] The aircraft belongs to the government-owned Conviasa airline and crashed in Bolivar state, in southeastern Venezuela, said civil protection official Jose Zamora.
Zamora said there may have been survivors.
Initial information indicates there were 43 passengers and four crew members on board, said Francisco Garces, the Venezuelan minister of transportation and communication.
Both officials made their comments on the CNN-affiliate Globovision TV station.
No further information was immediately available.
[Posted at 11:15 a.m.] An airplane with more than 45 passengers and crew crashed Monday morning in Venezuela, government officials said.
There was no immediate information on casualties or survivors.
This story is developing. We'll bring you the latest information as soon as we get it.