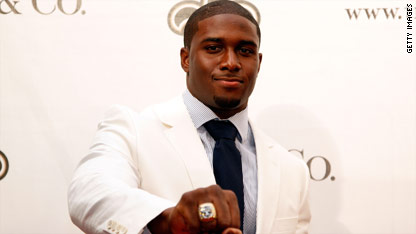 Former University of Southern California star running back Reggie Bush has decided to forfeit the Heisman Trophy he won in 2005, according to a statement on the website of his pro team, the New Orleans Saints.
The decision comes two months after the NCAA ruled Bush had violated rules by accepting gifts, cash and other benefits while he played for USC - violations that would have affected his eligibility.
"The persistent media speculation regarding allegations dating back to my years at USC has been both painful and distracting," Bush said in Tuesday's statement.
"In no way should the storm around these allegations reflect in any way on the dignity of this award, nor on any other institutions or individuals. Nor should it distract from outstanding performances and hard-earned achievements either in the past, present or future."
Last week, Yahoo Sports reported that two sources close to the Heisman Trust, which oversees the award given to college football's top player, claimed the trust eventually would rule it agrees with the NCAA's assessment that Bush was ineligible to play during 2005 - and therefore would strip the trophy from Bush.
The NCAA infractions committee in June also levied heavy penalties against USC's football program, vacating its 13 wins, include the team's Orange Bowl victory against the Oklahoma Sooners, taking away 30 school scholarships and banning USC from bowl games for two years.
In his statement, Bush said winning the Heisman was one of the greatest honors of his life.
"But I know that the Heisman is not mine alone. Far from it," Bush said. "I know that my victory was made possible by the discipline and hard work of  my teammates, the steady guidance of my coaches, the inspiration of the fans and the unconditional love of my family and friends.
"And I know that any young man fortunate enough to win the Heisman enters into a family of sorts. Each individual carries the legacy of the award and each one is entrusted with its good name.
"It is for these reasons that I have made the difficult decision to forfeit my title as Heisman winner of 2005."