TV Azteca reporter Ines Sainz has been making the media rounds, giving her take on what happened between her and the New York Jets football team on the field and later in the locker room that prompted reports of sexual harassment.
The story broke Monday with reports that the NFL was investigating whether Jets players behaved inappropriately by allegedly hooting and hollering at Sainz when she visited the team's locker room for an interview with Mark Sanchez on Saturday. 
Since then, the Sainz saga has been splashed across newspapers with the typical tabloid-style headlines - perhaps because she is a former Miss Spain, or the self-proclaimed "hottest sports reporter in Mexico," or because she has posed in Maxim.  
Washington Redskins running back Clinton Portis kept the story alive Tuesday with comments on the Mike Wise Show about locker room dynamics (comments start around 14:00). Subsequent backlash from the NFL prompted Portis to acknowledge he was "wrong to make the comment," adding that he respects "the job that all reporters do." 
It was the most recent apology Sainz has fielded this week, after hearing from Jets owner Woody Johnson. Sainz says she has accepted the apologies and hopes to put the harassment issue behind her. 
But the furor continues on talk shows, on the Web and in social media. It has sparked intense debate online - and on CNN comment boards.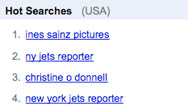 Her name was leading Google Trends Monday. Tuesday, her name, specifically people searching for photos of her, or generic terms like "Jets reporter outfits," are topping the trend list again. 
As of Tuesday evening, more than 1,000 of you have shared CNN's story about the incident on Facebook, there are more than 700 comments, and the story and videos of Sainz's interviews have remained at the top of CNN's NewsPulse, which ranks popular stories, for the past 24 hours. 
When CNN posted its first story, the comments came fast and furious and continued to roll in Tuesday. 
Some believe, despite Sainz's comments to the contrary, that she is relishing the media spotlight for personal gain, or that the incident was a carefully orchestrated PR stunt. Intense debate focuses on whether the form-fitting jeans and white blouse she wore on Saturday were appropriate for the environment or if the alleged behavior constitutes harassment.
(Sainz tweeted that she didn't understand why anyone was making a big deal about her clothing. She then posted a photo on her account of what she was wearing the day in question.) 
Opinions also vary on the role of women in sports journalism and whether they should be allowed in the locker room. On this point, SI.com columnist Ann Killion has weighed in, reminding readers that the NFL has designated the locker room a work environment, open to male and female reporters, at designated times for carefully orchestrated PR stunts relished by the teams. 
In response to laments that male reporters would never be allowed in women's locker rooms, Killion says the same rules apply for men, except "there is simply no female equivalent to professional men's sports."
Why do you think this story has brought out such strong reactions? And what do you think is keeping this alive in public circles and online? Below is a sampling of a wide range of opinions on the story. We invite you to read them (and the original post and comments) and respond in the comment section below with your thoughts.  
Sampling of comments from Tuesday:
Shelly
She clearly should have known that she would have garnered the guys' attention dressed in tight, curve-revealing clothing, but what she should never have to expect is disrespectful behavior. You can admire a woman without relying on lewd, disrespectful comments and leering.
This is the issue. People, men and women, are going to notice her beauty, but they can do so without being neanderthals about it.
 BK
SHE PLOTTED THIS WHOLE THING. Isnt that obvious to anyone else? How many of you knew she existed one week ago? Now she's the top search on Google. All this publicity is obviously doing wonders for her career. Don't be fooled for a minute that she was overwhelmed with the harassment! A woman like that has been getting catcalls her ENTIRE adult life, and now she starts complaining? Come ooonnnn. It's a brilliant self-serving move on her part to get publicity, but it enrages me that people can't see that it's nothing more than a publicity stunt.
kenny
One question, can male reporters go inside LPGA or women's basketball locker rooms directly after a game or practice for that matter? I think not, so why then should women be allowed in the men's locker room? Wait at the door and ask the question(s) after the men have showered, dressed and leaving the building, it's not as if they can or even would hide.
Fiona22
If Ines Sainz wants to be treated like a professional, then look like one. Inez dresses like she is a twenty-something going clubbing.
Rachel
This is a joke. If the outfit she posted on her twitpic is what she wears on a daily basis ... she knows exactly what she is doing dressing like that - and knows guys are going to hit on/holler at her. If she didn't want them to, she wouldn't be wearing skin-tight jeans that outline her ass. As a woman, you know what you have, you know how men will react to what you wear ... especially a locker room full of men.
Terry
It's very typical to blame the victim. It is not respectful to catcall a woman, EVER, no matter what she's wearing. It's disrespectful and unprofessional. And, as a woman, I can assure you that we get harassed even if we're wearing extremely conservative clothing. It's a problem if we as a society think that this behavior is acceptable, because it's not.
Rick
The issue for me is who was offended. My understanding is that Ms. Sainz shrugged off the behavior and went about her job. It was others who think they witnessed "harassment" who made the complaint. Again, as I understand it, Ms. Sainz did not even realize there was a problem until media outlets asked for a comment.
People behave badly, both men and women. There seems to be a sisterhood that will step in and take offense at something that a mature adult will let pass. Ms Sainz acted like a mature adult while the Jets player acted like teenagers. And nameless others took offense. Ladies, if you can't take the heat, get out of the kitchen.
Rachel
If a person who was rich dressed nicely and got mugged would we be saying they asked for it because of the way they dressed? Despite if it is professional or not how she dressed that should not be the focus of this argument. Ultimately anyone should be able to do their job without being harassed, or ever in their life for that matter. It is a matter of respect, not that anyone should be fined for what occurred but it was wrong for the Jets to make those comments.
Oski
They need to keep reporters in a media room, not the locker room where everyone is walking around naked. How responsible is that for anyone?? Do men reporters stroll around when Venus and Serena or Michele Wie are hopping out of the shower walking around naked??
DS
I'm not too sure why people are still bashing the girl's clothes..... she was in Maxim for Christ's sake, having men ogle her ass obviously doesn't bother her. She's not even the one who made the complaint. Yeah, she should probably cover herself if she wants to be taken seriously but that doesn't seem to be the issue here; the issue is that someone saw the attention she was getting and complained and now she is stuck in the middle. Leave her alone!
CD
It seems like this is being blown up quite a bit. She is an extremely attractive women who works around 20-something athletes. They were basically flirting with her. I wouldn't really expect anything less. The Rex Ryan bit is a little strange. I would expect a little more professionalism on his end. As a head coach, he doesn't need to be "one of the guys."
It sounds like it bothered another reporter more than it bothered Inez. If I'm Fox or NBC, I'm offering her a sideline reporting gig stat. With the press she is getting she can't do anything but help ratings. I'd tune in to watch her.
Sampling of comments from Monday:  
john  
"and we care why??"  
Cindy Presley  
"Any woman who is a sports reporter should NOT be upset over this behavior from the Jets. Most of these women dress inappropriately at the events they are covering. As Dan said above, men are hardwired this way. And he's absolutely right....if women don't want men looking at them or making comments, stop wearing tight-fitting, low-cut blouses and short skirts! Dress professionally!!"  
John  
"The NFL requires the players to handle themselves accordingly........why don't we hold the reporters the same? What do you expect a bunch of guys who hit each other for a living with a ton of testosterone to do when she is dressed like that on the sidelines? Give me a break! If someone was really harassing her then yes someone should do something. She doesn't even think anything was a big deal.....it was most likely other reporters that were not getting the attention they wanted. More power to her for getting more face time and interviews with the players."  
sportsnutz  
"I'm a woman and an avid sports fan and I think the Jets players are wrong but should not be punished. After all, a woman has to be aware that she is entering a locker room full of hormonal men who are just being macho. If a man came into a locker room of teenage or college aged ladies we would be hooting and hollering and checking out his goods as well. On the flip side, as a reporter you have the best of both worlds 'cause you can check the goods out, get them on camera and interview the hottest jock in the locker room."  
Paul j  
"The NFL needs to require sensitivity training to all teams and especially first year players. The NFL also owes Inez Sainz an apology. The NFL has to investigate all NFL teams for this kind of behavior because it is obvious that female reporters don't always report these incidents for fear of reprisal. The NFL's image is paramount and they can't afford the backlash from this."  
Mela  
"She reminds me of those people that work out with heels and makeup at the gym... guess what lady you stick out like a sore thumb. Also when those clothes are so tight they are calling for comments, so you asked for it. It's ridiculous that this is even a story!"  
GP  
Why don't you send Mark Sanchez to college women's locker [room].
They would scream, whistle and remark what they would love to do to him but yet he would brush it of with the smile just like any other handsome guy. Women have to understand that equality means equality in every aspect of life. No double standard. Also men's locker [rooms] means men's, not coed.
Check this reporter "page" she is all about her getting more exposure and benefiting from this situation. Sad  
hughiewis  
"Google her name and check out the number of photos available. Any woman that would subject herself to that many lurid photo opportunities knows exactly what she's doing!!"  
serialmom  
"One thing that I think many of you critics are forgetting is that it is most likely a man that hired her for her position. It is also not unlikely that her wardrobe is not comprised of the stuff hanging in her own closet. The men hire the beautiful women to attract men during slow game times on TV. The women are attractive, so it is more likely that they will be flirted with. What is wrong with millionaires that are being paid to practice showing some professionalism? And hooting when you walk into a room to do your job is unnerving and offensive. I listened on the radio to some guy waxing nostalgic about being a teen reporter for an old newspaper. It was so homey and dreamy, until he talked about the teenage copy girls getting hooted at the entire time they were trying to do their job in the copy room. Thank you Adults."