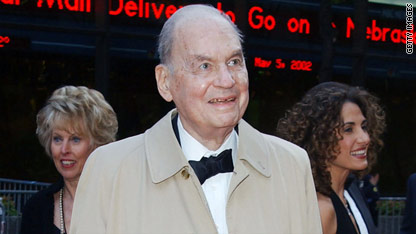 Edwin Newman, the longtime NBC newsman and expert on the English language, has died, NBC said Wednesday.
Newman, 91, served in many capacities for NBC, as an anchor, a news reporter, a commentator, a moderator and a host.
He was particularly well-known for his writings, including those about language. They include "Strictly Speaking: Will America Be the Death of English?" and "A Civil Tongue."
"For decades America got its news from NBC's Edwin Newman. He was one of our nation's preeminent journalists, an authoritative figure on grammar and the English language, a true professional and always the gentleman," President of NBC News Steve Capus said in a statement. "He brought dignity and great perspective to an endless array of historic news events. He set a standard for decades to come, at NBC News and throughout this profession. Edwin will be missed as a journalist, and as a respected member of the NBC News family."
Brian Williams, Anchor and Managing Editor of Nightly News with Brian Williams, praised Newman's personality and sense of humor.
"Ed Newman was never preachy or pedantic. He was approachable, elegant and precise," Williams said in a statement. "He was a teacher, a broadcaster, and above all a superb journalist. To those of us watching at home: he made us feel like we had a very smart, classy friend in the broadcast news business.
His sharp sense of humor - always first aimed squarely at himself - allowed him to stretch his formidable talents from news to Saturday Night Live. His voice can still be heard inside 30 Rock - and we summon it often when we need an answer. He always knew the correct one."
NBC News Special Correspondent Tom Brokaw echoed the sentiments and added that Newman served as an example for the kind of reporter he would later strive to be.
"Ed Newman was an early role model for my generation of NBC News correspondents - worldly, erudite and droll, qualities that were enriched by his pitch perfect use of the English language," Brokaw said in a statement. "He was always a gentleman and a reassuring presence in our midst."