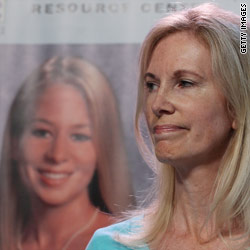 Beth Holloway
The mother of Natalee Holloway, an American teen who vanished in Aruba in 2005, visited a Peruvian prison Thursday and reportedly spoke to the man who she believes killed her daughter. Beth Holloway made a trip to the Castro Castro Prison along with documentary filmmaker Peter de Vries. Unconfirmed reports say she was able to see prisoner Joran Van der Sloot for at least five minutes before being led away by authorities.
Van der Sloot was arrested twice in Aruba in connection with the younger Holloway's disappearance but was never charged. He is in Peru facing murder charges in the death of Stephany Flores, who was killed in a Lima hotel in June.
In 2005, 18-year-old Natalee was last seen getting into a car outside Carlos n' Charlie's nightclub in Aruba with van der Sloot and brothers Deepak and Satish Kalpoe. She was visiting with her high school classmates as part of a graduation celebration.
 
Since Natalee's disappearance, Beth Holloway's life has taken many paths. She has written a book about her daughter, which became a television movie. This summer, federal investigators said that van der Sloot attempted to extort $250,000 from Holloway in exchange for telling her the location of Natalee's body.
 
Personally, her marriage to Natalee's stepfather Jug Twitty has ended. She briefly dated John Ramsey, father of JonBenet Ramsey, the 6-year-old beauty queen from Boulder, Colorado, whose death in 1996 has yet to be solved.
CNN: Holloway's mom visits Peruvian jail
President Carter
The former president has told "60 Minutes" that the late Sen. Edward Kennedy single-handedly prohibited universal health care from happening during the late 1970s.
"The fact is that we would have had comprehensive health care now, had it not been for Ted Kennedy's deliberately blocking the legislation that I proposed," Carter told CBS correspondent Lesley Stahl. "It was his fault. Ted Kennedy killed the bill."
How might the "Lion of the Senate" respond to President Carter's accusations? In his book "True Compass," published posthumously, Kennedy wrote that his relationship with the former president was "harmonious enough" and that Kennedy always supported Carter as the Democratic candidate for president. It was Carter's failure to allow compromise, coupled with his "malaise" speech, that persuaded Kennedy to run unsuccessfully against him in 1980.
"The overarching political cause for me was health insurance, and that is where the comity really broke down between us," Kennedy said. "In fact health care and health insurance were the issues that damaged our relations beyond repair."
Carter came to the White House apparently convinced that health care must be put in place incrementally, through many bills with cost-containment benchmarks. It would not come to fruition until after the 1978 midterm elections, Kennedy wrote. Kennedy worked to negotiate with the powerful unions about what they would accept in a national plan and sought to use the existing private insurance industry to administer the program. But by late 1978, Kennedy wrote, Carter had stalled any process of developing a workable bill.
"Looking back, I think he simply had convinced himself that he was going to do it his way," Kennedy wrote. "This was true of his dealings with the Senate, and one of the principal reasons that he never won that body's cooperation."
Political Ticker: Jimmy Carter blames Ted Kennedy for health care delay
Casey Affleck
The director/actor has told the New York Times that Joaquin Phoenix's disheveled appearance on David Letterman's show in 2009, followed by a documentary about celebrity life called "I'm Still Here," was an act.
Affleck, who is married to Phoenix's sister, said he admires Phoenix for spending so much time playing a character that caused many to wonder whether he was unstable. During filming, Phoenix grew out his hair and a ragged beard. His demeanor appeared incoherent. He even put forth the notion that he was shifting careers to become a rapper.
"His performance is compelling, always watchable, manages to be repulsive and charming, believable in all emotions, completely committed, incredibly brave," Affleck wrote in an e-mail. "How difficult to resist the cheap joke, the wink, the nudge."
Affleck said the criticism was undaunting, and he'd do it all again if he could. "Definitely, all of it. Change nothing. I feel good about everything through and through."
Phoenix is slated to reunite with Letterman on September 22.
NYTimes.com: Documentary? Better call it performance art