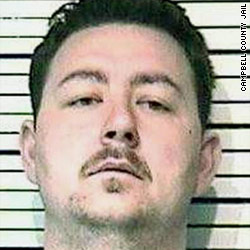 Can too much caffeine make you insane - and mentally unstable enough to unknowingly kill someone?
That's a question a Newport, Kentucky, jury will have to answer when they eventually deliberate in the trial of a man whose lawyer is expected to claim that too much soda, caffeine-laced diet pills and the energy drink No Fear - combined with sleep deprivation - meant he had no idea what he was doing when he killed his wife.
Woody Will Smith's murder trial begins Monday, and according to the Kentucky Enquirer, Smith's lawyer will argue that the combination of all that caffeine was responsible for the death of his wife.
Amanda Hornsby-Smith was strangled with an extension cord in 2009 - and now Smith is facing life in prison if he is found guilty of murdering his wife in their home.
Defense attorneys are expected to focus on a psychological evaluation conducted by an expert that determined Smith couldn't be criminally responsible for the murder because he was suffering a temporary psychotic disorder based on the lack of sleep and use of amphetamine and caffeine products, the Enquirer reported.
"This dissociative belief and intense paranoid delusions are the direct result of the ingestion of large amounts of caffeine and diet pills,"a psychologist wrote in his report, according to the paper.
The prosecutor is expected to call her own witness, the paper said, who will refute the entire argument.
It's not the first time a caffeine-induced defense has been heard in a courtroom. Last year a Whitman County judge dropped charges against Daniel Noble, who blamed too much caffeine as the reason he lost control of his car and hit someone on the Washington State University-Pullman campus. The accident didn't kill the victim, but did cause nerve damage and several broken bones.
The judge made the ruling after hearing testimony from several medical experts - but Noble also had been diagnosed as bi-polar. However, as part of the ruling, the judge made it a condition that Noble not be allowed to consume caffeine.