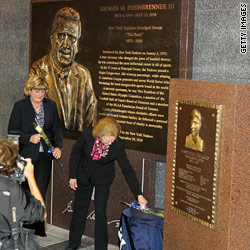 In the 37 years George Steinbrenner owned the New York Yankees he did just about everything in a big way. Spent big money on big stars, made big headlines, got himself in big trouble, and made big money for the team.
So it's no surprise that when the Yankees unveiled their monument to Steinbrenner, who died in July, at Yankee Stadium on Monday the monument was - well - big, really big.
Look at the picture, that's Steinbrenner's monument in the middle of course - the smaller monument he towers over, is that of Joe DiMaggio, a Yankee icon and baseball hall-of-famer.
In fact, Steinbrenner's plaque is by far the biggest in Yankee Stadium's hallowed Monument Park. Bigger than Mickey Mantle's, Lou Gehrig's, Yogi Berra's, even Babe Ruth's.
Yankees team president Randy Levine defended the plaque to the New York Daily News.
"We think the monument is a tribute to the man The Boss was, larger than life. His spirit is encompassed by that monument, and there was no intention to make it bigger than the others just for the sake of doing it," Levine added, "it was not made bigger in an attempt to have it be larger than the others. We just wanted to represent the spirit of George Steinbrenner."
There is some blog chatter about whether Steinbrenner, whose Seinfeld character called himself "The Big Stein" is getting too big a tribute. Yahoo Sports is having some fun speculating on whether the Yankees may have actually had bigger plans in mind.