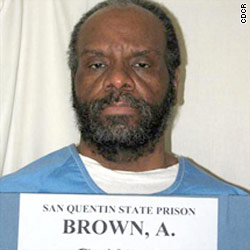 The execution next week of a California man who raped and murdered a 15-year-old on her way to school is set to proceed after the state appeals court overturned an injunction barring lethal injection, the Riverside County District Attorney's Office said.
Barring a last-minute stay or delay, Albert Greenwood Brown could become the first person to be executed in California in almost five years, ever since legal challenges arose over the state's lethal injection procedure.
And, if the execution goes forward as scheduled on September 29, he'll also be the first inmate to be put to death in California's new lethal injection chamber, which was modified to meet new requirements to come out of the lethal injection review.
Video: California readies for execution
Brown was sentenced to death in 1982 for the rape and murder of Susan Jordan, who was walking to Arlington High School in Riverside when Brown pulled her into an orange grove, according to court documents.
He raped and strangled her with her own shoelace and took her school identification cards and books. Later that evening, he looked up her family in the phone book and called their home, the documents state.
"Hello, Mrs. Jordan, Susie isn't home from school yet, is she?" he said. "You will never see your daughter again. You can find her body on the corner of Victoria and Gibson."
He also placed a call to police directing them to her body. During the investigation, three witnesses identified Brown as being near the scene of the crime. Police also found Susan's school books and newspaper articles about her death in Brown's home, and clothing with semen stains in Brown's work locker.
During the penalty phase of Brown's trial, his lawyer presented psychiatric evidence suggesting that he had emotional problems, including sexual maladjustment and dysfunction and claimed he was remorseful.
The jury deliberated for three hours before returning a death verdict, according to an opinion issued September 19 by the Ninth Circuit Court of Appeals.
In post-conviction appeals, Brown claimed he had received ineffective counsel during the penalty phase, and that lethal injection constitutes cruel and unusual punishment in violation of the Eighth Amendment.
In his appeal, Brown cited the two cases that had brought a temporary halt to executions in California in 2006. But those cases did not find that lethal injection was cruel and unusual punishment, the three-judge panel wrote.
Rather, the cases held "only that the protocol as currently implemented in California may violate the Eighth Amendment because the state does not have procedures in place to insure that inmates are unconscious... prior to injecting fatal doses."
The justices denied his claims.
If his execution goes forward, Brown will be the first inmate to be executed under the new regulations that took effect August 29, after a lengthy review and certification process.
Among the new regulations, according to the California Department of Corrections and Rehabilitation:
–Â A screening process for selection of execution team members and a periodic review process for team members.
–Â A comprehensive training program for all execution team members focusing on custody and care of the inmate, the infusion process, intravenous application and vein access, characteristics and effects of each chemical used in the process, proper preparation and mixing of chemicals, the security of the lethal injection facility, proper record keeping and other areas.
– Standardized record keeping to ensure there are complete and reliable records of each execution.
– Training processes for the proper use of sodium thiopental. Training processes were developed for proper mixing, preparation and administration of sodium thiopental.
– Improvements to the lethal injection facility at San Quentin State Prison, including steps to ensure adequate equipment, lighting and space.