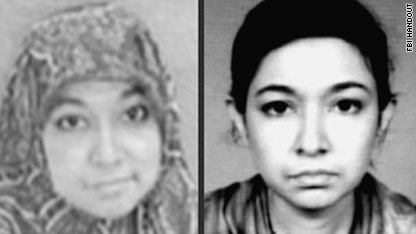 Pakistani scientist Aafia Siddiqui was sentenced to 86 years for attempted murder and other charges by a federal judge in New York for attempting to kill several U.S. military officers while she was being interrogated in Afghanistan.
Siddiqui was found guilty in February on seven counts, including attempted murder.
In 2008, she fired a rifle at two FBI special agents, a U.S. Army warrant officer, an Army captain and military interpreters when they entered a room where she was being held. She did not hit anyone, but was injured when the warrant officer returned fire.
Afghan police had arrested her outside the Ghazni governor's compound after finding her with bomb-making instructions, excerpts from the "Anarchist's Arsenal," papers with descriptions of U.S. landmarks and substances sealed in bottles and glass jars, according to a September 2008 indictment.
The indictment said Siddiqui had "handwritten notes that referred to a 'mass casualty attack'" listing several locations in the United States, and "construction of 'dirty bombs.'"
The notes also "discussed various ways to attack 'enemies,' including by destroying reconnaissance drones, using underwater bombs, and using gliders," the indictment said.