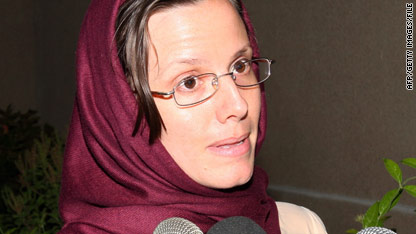 Freed hiker wants audience with Ahmadinejad - Sarah Shourd, the American hiker recently released from an Iranian prison, told CNN's "American Morning" on Friday that she would like to speak to Iranian President Mahmoud Ahmadinejad, who is in New York for the U.N. General Assembly.
Shourd said she would like to appeal to the Islamic republic's president to release her fiancée, Shane Bauer, and friend, Josh Fattal, who are still being held there. She would ask him to show the same mercy he showed in releasing her earlier this month.
Ahmadinejad told CNN's Larry King on Wednesday that he suggested Shourd be released but that he had no influence over the legal process. He said there was a chance Bauer and Fattal could be released, but it would be up to a judge to make that decision.
Japan to release Chinese captain - The fishing captain whose arrest set off a diplomatic impasse between Beijing and Tokyo will be released, Japan's Coast Guard says. Japan said it could take several days to free the captain, and China's foreign ministry said it will send a private plane to pick him up. Japan arrested the captain and his crew of 14 after his vessel crashed into two Japanese patrol boats off the disputed Diaoyu Islands. The captain was charged with obstructing public officers, but China was incensed by the arrest and Premier Wen Jiabao threatened that Tokyo would "bear all the consequences that arise."
Funnyman takes stand on immigration - Comedy Central comedian Stephen Colbert is scheduled to appear before the House subcommittee on immigration at 9:30 a.m. ET Friday. Colbert has used his mock news show "The Colbert Report" to take on the issue of immigration, and Thursday's show featured him [sort of] packing corn and picking beans as part of a challenge from a pro-immigrant labor group. Colbert will appear Friday with United Farm Workers President Arturo Rodriguez, whose group has launched a campaign challenging U.S. citizens to replace immigrants in farm work.
Lohan back in court - Actress Lindsay Lohan is slated to appear in court at 11:30 a.m. ET Friday after Judge Elden Fox revoked her probation this week and signed a bench warrant for a probation violation. Lohan served 13 days in jail and 23 days in rehab for a 2007 drunk driving conviction. Her supervised probation requires counseling, behavior therapy and random drug tests. The 24-year-old tweeted last week that she had "regrettably" failed her most recent drug test and was prepared to go before Fox.