Thirteen people drowned and eight are missing after a small skiff packed with more than seven dozen people capsized while getting aid from a U.S. Navy vessel in the Gulf of Aden, the U.S. military said Monday.
The skiff, packed with 75 Ethiopians and 10 Somalis, was spotted adrift in the gulf by a South Korean warship, which asked the guided missile destroyer USS Winston S. Churchill to provide assistance, according to a statement from the Combined Maritime Forces, which conducts anti-piracy patrols off the east coast of Africa.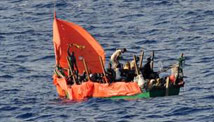 The 9,500-ton, 513-foot long Churchill sent an inflatable boat to the aid of the skiff. After determining the skiff was without power, the inflatable towed it out of shipping lanes toward the Somali coast, the statement said.
At about 8:30 am local time Monday, U.S. sailors attempted to distribute fresh supplies to those aboard the skiff. As they did so, the Africans rushed to one side of the vessel, capsizing it, and sending all 85 passengers into the ocean.
Crews from the Churchill and an Australian patrol aircraft were able to rescue 61 of the skiff's passengers. Thirteen drowned and eight were not found, the statement said.
The Navy was investigating the incident.