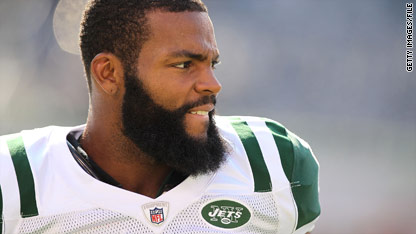 Braylon Edwards went into Sunday night's game against the Miami Dolphins on the bench. Due to a self-imposed team suspension for his DUI arrest, Edwards was forced to sit on the sidelines for the first quarter of the game.
While his actions off the field caused many to question his future with the organization, his ability on the field was hardly in doubt when he managed a 67-yard touchdown in the third quarter with just 4:30 seconds left on the clock. Edwards' efforts helped the Jets to a 31-23 win against Miami, pushing the Gang Green into a three-way tie atop the AFC East.
"The biggest thing I can say about this week is that I really am glad that I have teammates and an organization like the Jets," Edwards said. "They've been very supportive, been there for me and they've allowed me to have a better week than maybe somewhere else."
But it wasn't just Edwards and the Jets that managed to impress this weekend. SI.com's Don Banks recounts a weekend that also saw the Cowboys and Vikings break through with their first wins of the season. Particularly for Cowboys' coach Wade Phillips, the win may have come just in the nick of time to save face for the team - and secure his job - at least for the time being.
Tonight Green Bay and Chicago fans can look forward to a heated match-up, while the Phillies hope to win the NL East title.
Green Bay Packers vs. Chicago Bears (8:30 p.m., ET) – In a Monday night showdown, the Packers will take on the Bears at Soldier Field. The game will mark the 180th time the two teams have faced off against each other.
Washington Nationals vs. Philadelphia Phillies (7:05 p.m., ET) – The Phillies may have clinched a playoff berth, but the team is still looking to lock in a NL East title when they go up against the Nationals tonight.
By The Numbers

62- Number of years it took for Nebraska to make its way back on to the Associated Press poll. With a 4-0 start to the season, the Wolf Pack were No. 25 on the poll when it was released on Sunday.
$35 million- The sizeable payday Wizards forward Andray Blatche walked away with after signing a three-year contract extension. Blatche is slated to be with the Wizards for the next five years after averaging a career high 14.1 points, 6.3 rebounds and 2.1 assists last season.
$10 million- Bonus Jim Furyk snagged in his bunker shot at the Tour Championship. Furyk's victory earned him $1.35 million for winning the tournament in addition to the $10 million he received from the FedEx Cup.