Iran unveiled three squadrons of new flying boats on Tuesday, Iranian news agencies reported.
The craft, dubbed the Bavar 2, is armed with a machine gun and carries surveillance cameras, according to a report from the Iranian Student News Agency.
Video: Watch boats soar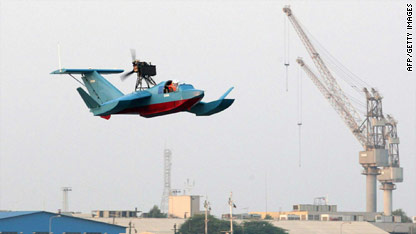 "Islamic Republic of Iran is one of the few countries which managed to design, build and use flying boats in a short time," said Defense Minister Brig. Gen. Ahmad Vahidi, who oversaw the delivering of the aircraft at the Bandar Abbas naval facility on the Persian Gulf near the Strait of Hormuz.
The delivery comes as Iran celebrates its Week of Sacred Defense, which commemorates its eight-year-long resistance to the 1980 Iraqi invasion, according to the Fars News Agency.
The flying boats look like one Iran used during Persian Gulf war games in April 2006. Media reports from the time include a video of a flying boat taking off.
After those 2006 reports, bloggers poked fun at Iran's so-called stealth technology, saying the flying boat looked like something anyone could buy in kit form from mechanical magazine ads.