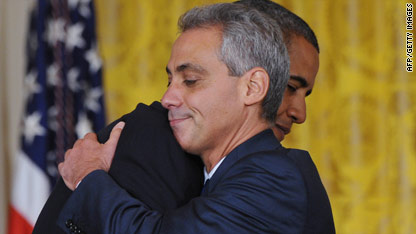 Veteran Illinois politician Rahm Emanuel - long known as one of toughest men in American politics - has stepped down from his powerful position as White House chief of staff, President Obama announced Friday.
Emanuel has been temporarily replaced by White House Deputy Chief of Staff Pete Rouse while Obama searches for a long-term replacement.
Emanuel, who held a Chicago congressional seat for six years, is widely expected to run for mayor of his hometown.
The move has been anticipated since Chicago Mayor Richard Daley recently decided not to run for re-election.