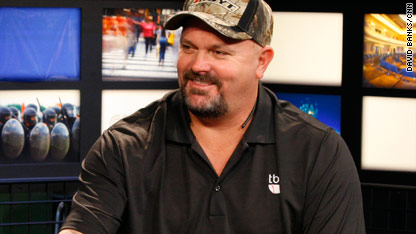 Former pitcher David Wells has no problem saying it - he's not a fan of the umpires in Major League Baseball.
He wasn't when he had his bad days, or when he got into fights with them on the mound, or thrown out of a game for hitting a batter. He didn't like them either when he was at his peak and pitching a perfect game, and he still isn't - a day after an umpire made a call that may change the outcome of a playoff series.
The decision from Thursday's Braves-Giants game that mystifies Wells is also fueling the cavalcade of demands for instant replay in America's past time.
"You watch all these sports shows, these talk shows and all these so-called experts on sports are ranting and raving about how there should be instant replay," Wells, now a baseball analyst for TBS, said. "But it's the umpire's discretion. And I've never been fond of the umpires because they've changed their strike zones throughout the course of the game. But when [umpires are] out of position and can't make a call - they still have to make it. So everyone's going to push for the replay."
But for Wells - instant replay is only a bandage for the real problem in the sport - consistent umping.
"I think it can help, but then again it can hurt the game of baseball," he said.
Wells acknowledges how instant replay has helped other sports and the current baseball use when it comes to replays for home runs - but he said if umpires were doing their jobs there wouldn't be a need for the technology which could slow down the sport.
"I've been on both sides, a strike is a strike no matter what," Wells said.
The man known as Boomer, pointed to his former team, the Bronx Bombers, as an example.
In the ninth inning Wednesday night during Game 1 of the ALDS in Minnesota, New York Yankees outfielder Greg Golson trapped a sinking line drive from the Twins' Delmon Young according to how right-field umpire Chris Guccione saw it. Instant replay showed it differently – a clear catch by Golson.
With Young on base, Jim Thome came to the plate as the tying run in a 6-4 game. Luckily for the Yankees, – Thome, who had 25 homers this season, popped out to the end game.
But in Game 2 home-plate umpire Hunter Wendelstedt called a ball on a 1-2 pitch thrown to Lance Berkman that to many observers was a clear-cut strike. Berkman spanked the next pitch to nab an RBI double and broke a 2-2 tie.
"That ball was right down the middle with [Carl] Pavano," Wells said. "You give Lance Berkman a second chance and you made [Pavano] pay for it - and that's just uncalled for."
Berkman seemingly acknowledged the issue in his post-game comments, echoing some of Wells thoughts on the ever-changing strike zone:
"I mean, I felt like it was a ball. I had to swing at it, I had two strikes. It was a tough pitch. You know, I've had a lot of people ask me about it, and like it was right down the middle or something. That's a very borderline pitch. Sometimes it gets called, sometimes it doesn't. I felt like Hunter was very consistent all night with not giving anything inside. He was giving probably four to six inches off the outside corner, wasn't giving anything over the inside corner. So that was the strike zone. And I mean, I have been punched out plenty on balls that I didn't think were strikes, so what the heck. You know, if he had called it, I wouldn't have been happy about it, but I wouldn't have been shocked.
For Wells, the biggest issue is that when umpires make what everyone deems to be an error - nothing gets done about it.
"These guys have to be reprimanded, and they don't do anything to them. They're not evaluated," he said. "These guys are still making bad calls."
Wells openly admitted his problems with some umpires - something that may not be a surprise to those who have seen Wells fight some calls tooth-and-nail from the mound.
"These umpires I think are getting worse and worse," he said. "These guys, they're ruining the game of baseball and they need to get some [new] guys in there."
This time, Wells said, he'd like to see Major League Baseball officials be the ones to step up to the plate.
"Just evaluate these guys, or put umpires in the right positions," Wells said. "If you've got to add an umpire - one in the front and one in the back - whatever it takes to get these games right."
"A lot of these guys, a lot of these teams are getting really screwed over by bad calls."