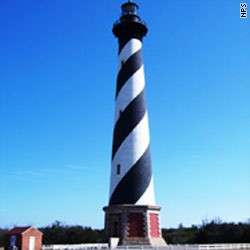 Monday, Columbus Day, will be the last day tourists can climb the historic Cape Hatteras Lighthouse this year, the National Park Service announced.
The lighthouse, a prime destination on North Carolina's Outer Banks, has welcomed about 130,000 visitors since the season began in April, the service said. It will reopen next April.
The spiral-striped spire was built in 1870 to warn ships of a particularly dangerous spot along the Atlantic Coast. Hundreds of ships have met their doom on the cape's Diamond Shoals, a 12-mile-long sandbar where a branch of the Labrador Current from Canada collides with the Gulf Stream.
The lighthouse avoided doom itself when it was moved 2,900 feet to its current location in 1999. The National Park Service maintains the building and grounds, while the U.S. Coast Guard maintains the automated light.