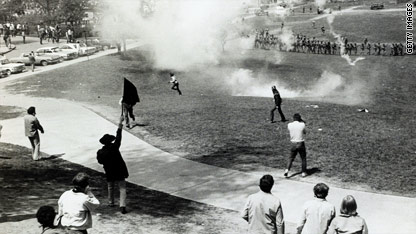 A commotion and several shots from a pistol preceded the iconic Kent State University shootings that took place 40 years ago, analysis of an audio recording shows, according to the Cleveland Plain Dealer.
The new findings shed light - and raise new questions - on what caused the Ohio National Guard to open fire on anti-war demonstrators on May 4, 1970, in Kent, Ohio.
The events heard on the tape take place about 70 seconds before guardsmen begin firing, killing four students and wounding nine others in an event widely seen as a tipping point for American sentiment against the Vietnam War. The recording was found three years ago in library archives.
On the tape, a voice can be heard saying, "They got somebody," the newspaper reports.
"Kill him!" at least two male voices shout several times, the paper says.
"Whack that [expletive]!" or "Hit that [expletive]!" a female voice shouts, according to the Plain Dealer.
The audio seems consistent with eyewitness and news reports that an armed Kent State student identified as Terry Norman was involved in some sort of tussle. Norman was on the scene shooting photographs of protesters for the FBI.  He reportedly had been threatened by protesters on other occasions.
According to a forensic audio expert, four gunshots that match the sound of a .38-caliber revolver can be heard plainly, the newspaper reports.
While Norman has admitted to carrying a loaded .38-caliber revolver that day, the newspaper reports, there has been a decades-long dispute over when he discharged the pistol, before or after the guardsmen fired - or whether he even fired the weapon that day at all.