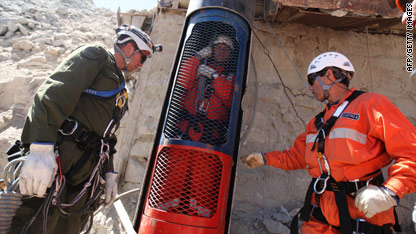 The five most popular stories on CNN.com in the past 24 hours, according to NewsPulse.
Toll on miners' body a concern: As the world awaits the rescue of the 33 Chilean miners from a copper mine, medical concerns arise. Some of the men have shown signs of anxiety and some have had minor cardiac issues, a Chilean official said. But there's also concern about what the isolation and confinement could do to their eyes, and their stomachs.
Hershel Walker is still a beast: For a long time, college football legend and Heisman Trophy winner Hershel Walker has been somewhat of a physical freak of nature.  "I'm in better shape than I've ever been in," said Walker, who's creeping toward 50 years old. Somethings never change.
Oprah Winfrey blasts verdict: The talk show maven said she was not satisfied with the acquittal of a woman accused of abusing students at her South African girls school. Tiny Virginia Makopo, 30, was found not guilty of allegations that she improperly touched several teenage girls when she was a matron at the campus near Johannesburg, the South African Press Association reported Monday.
Now you too can have more fun - in the sun: A Lithuanian firm called Olialia - pronounced "ooh-la-la" - has announced that it intends to build a resort in the Maldives that will employ blonde women only.
Cops: Boyfriend's arrest cracks cold case: More than a decade after high school sophomore Leah Freeman vanished from the street near her home in Coquille, Oregon, police say they have found her killer. A grand jury concluded it was her boyfriend, after police looked into the cold case a second time.