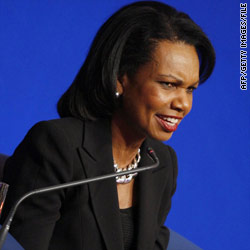 Condoleezza Rice
Former U.S. Secretary of State Condoleezza Rice is making the rounds today, promoting her first memoir. "Extraordinary, Ordinary People" is the story of Rice's upbringing in Birmingham, Alabama.
She has been sharing her thoughts about civil rights and politics, and USA Today captured on video another side of the former secretary.
Television: She watches a "little bit of news" and was a big fan of "V" when it ran on ABC. She also likes "American Idol," though "Without Simon Cowell, I'm not sure it's going to be so much fun," she said. You won't see her on "Dancing with the Stars" anytime soon. "That's a real possibility for humiliation," she said.
Music: The classical pianist is big on Brahms, Mozart and Beethoven, as well as Motown and R&B. Yet she has a special place for "hard, hard, hard rock like Led Zeppelin and Cream." "Black Dog" is her favorite Led Zeppelin song.
Sports: Rice is a passionate NFL fan, initially favoring the Minnesota Vikings as the "odds-on favorite to win it" this year. Injuries have forced her to reconsider. The New Orleans Saints could go all the way, she said, and the Indianapolis Colts "look like the pride of the AFC."
Laurence Golborne
At a time when politicians are being criticized for not doing enough to help their constituents amid disaster, the Chilean minister of mining is flourishing.
Though he had a shaky start, the British paper The Guardian is calling Golborne the most popular politician in Chile. He has 54,000 Twitter followers and an approval rating of about 87 percent, the paper said. Already, Facebook pages have been launched asking him to run for president in 2014.
An engineer and entrepreneur, Golborne came into the position in March of this year. At 49, he's handsome, friendly and on hand 24/7 to cheer on the miners and their rescue crews.
He's also made quite an impression with the media. "Superstar minister" was the headline from the women's magazine Para Ti. Eva Solinas of the Santiago Times told The Australian: "Two months ago, I'd have had to Google his name … he's become so well known he could run for president."
The Mir astronauts
Before the International Space Station made long-term existence in confined spaces vogue, there was a team of Russian and American space travelers who could have taught the Chilean miners about stress under confinement.
While Sergei Krikalev holds the record for the most days in space (803 over six separate flights), it's the Americans of Mir who offer the most profound opinions and experiences.
Shannon Lucid spent a record 188 days aboard Mir in 1996. Being aboard Mir was "like living in a camper in the back of your pickup with your kids," she said, "when it's raining and no one can get out."
Jerry Linenger spent nearly five months on board, enduring power outages and a fire so dangerous, it filled the spacecraft with smoke.
Michael Foale spent five months on board Mir in 1997, notably helping to repair a life-threatening hole caused when the spacecraft collided with a supply ship and began to decompress.