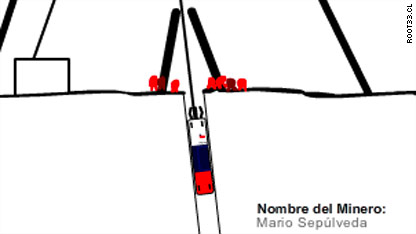 Not even a day has passed since 33 miners were freed from a Chilean mine, and already there is an online game based on the epic rescue.
"Los 33" lets users rescue the miners one-by-one, just as in real life, by taking control of a red, white and blue metal rescue capsule bearing the Chilean flag.
Users mouse over the winch to move the rescue capsule up and down the shaft. Once the capsule reaches the mine, a pop-up gives the name and age of the miner in the order they were rescued, along with the role he took on during the 69 days of captivity. Rotate the wheel again to reach cheering crowds on the surface - 33 times, if you have the patience.
The game was designed and appears on the website of the Chilean interactive design agency, Root33.